Bluewater Recycling Association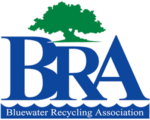 Business Name:
Bluewater Recycling Association
Long Business Description:
This site is designed to give residents in our membership area from the many municipalities located in Huron, Perth, Lambton, and Middlesex Counties in Southwestern Ontario the most up-to-date information to maximize waste diversion. Check out our material guide under the recycling tab which explains how to dispose of over 225 different items! Get your local information by navigating to your community under the schedule tab.