It's time for the 5th Annual South Huron Job Fair!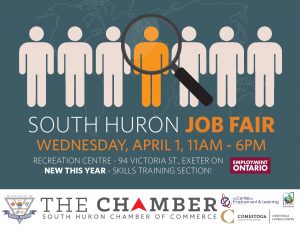 Join us for the 5th Annual South Huron Job Fair on Wednesday, April 1, 2020 from 11 am to 6 pm at the South Huron Recreation Centre! A traditional job fair with over 20 local employers representing jobs in various sectors. Full-time, part-time and summer employment opportunities available. This free event is a great way to explore job opportunities in the region.
New this year is a Skills Training section! Here you can speak with representatives from Avon Maitland District School Board, Huron-Perth Catholic District School Board, Fanshawe College Huron/Bruce Regional Sites, Technical Training Group Stratford & Area, Conestoga Career Centres, and Contact North – Huron Bluewater, about amazing opportunities for apprenticeships in manufacturing, welding and much, much more!
We are also accepting employer exhibitors until March 23, 2020. If you're interested, please contact the South Huron Chamber of Commerce at 226-423-3028 or by emailing office@shcc.on.ca for more information.
This event is sponsored by South Huron Chamber of Commerce, Municipality of South Huron, The Centre for Employment & Learning-AMDSB, and Stratford Career Centre!
Click here to download the Employers' Application package: 2020 South Huron Job Fair Exhibitor Application