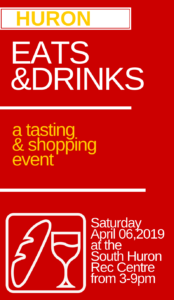 The South Huron Chamber of Commerce in partnership with 90.5 myFM are hosting a new event.  HURON EATS! 
This new event will become an annual festival of food, drink and fun.  Showcasing all things local, this ticketed event will feature a shopping concourse, tasting opportunities and a food truck alley. Attendees will be glad to discover the newest trends in cooking equipment, kitchen upgrades and popular new recipes.
Huron County is home to some of the best and most innovative retailers, producers and processors that Canada has to offer.  This is their show and they will shine and their products will be what show visitors come to see.
CURRENTLY SEEKING VENDORS: Check out our Vendor Packet. There is room for everyone.