September 14, 2021 1:00 pm - 5:00 pm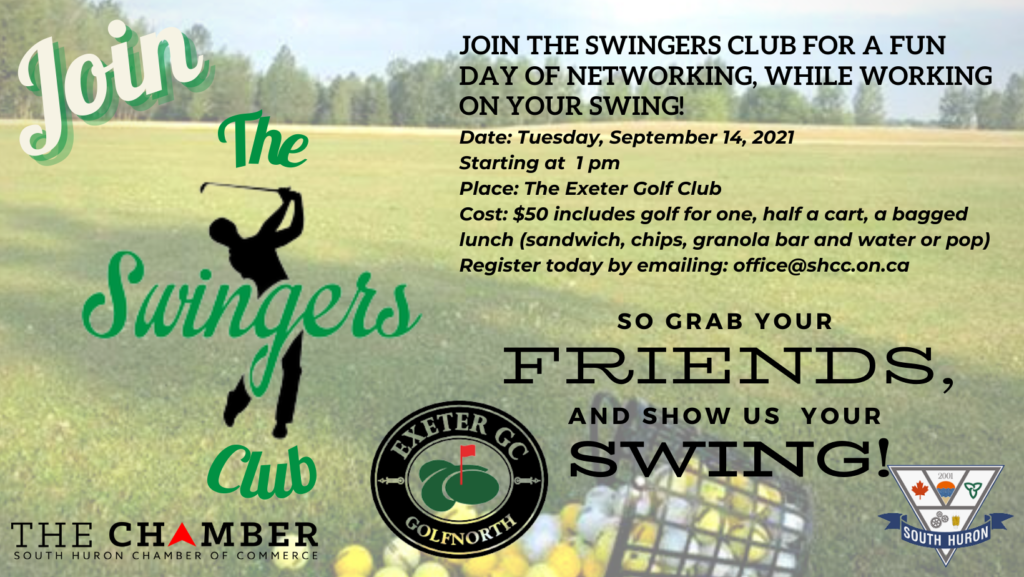 The Swingers Club is HERE!
Since the Chamber couldn't hold our usuall Annual Golf Tournament, we decided to host The Swingers Club!A great opportunity to get out of the office! Enjoy the outdoors! Beat your friend's score! All in the name of "Networking"!Come on out and join us in this long forgotten ancient way of networking and meeting new people… in person!

There's no need to hide in a closet for peace and quiet, or make another pot of coffee to keep you looking alive through another Zoom meeting.For $50 you can enjoy 9 holes of golf for one, shared cart and a gourmet bagged lunch you can tag along with you in the great outdoors!
Due to Covid, only teams of 4 can play at 8 minutes start time, and if going into the Club a mask must be worn.So grab 3 of your friends, and make your own team, or we will gladly team you up with 3 others!If you need to network and promote your business, then grab your balls and join the "Swingers Club" event! By the way, you don't need to be a Chamber Member to join… This is open to everyone and anyone who wants to get their swing on!
Register today by emailing us at: office@shcc.on.ca
Tags: Golf Event, The Swingers Club