Exeter's Jack-o-Lantern Jamboree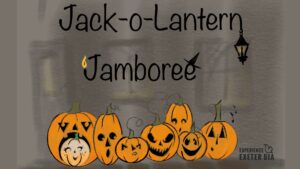 FRIDAY, OCTOBER 30, 2020 AT 6 PM  – 9 PM at the Exeter Downtown Parkette
On October 30th from 6 pm – 9 pm Downtown Exeter will hold its first Jack-o-Lantern Jamboree!
Bring the kids or come on your own and enjoy the custom designs by all of the carvers.
THIS IS A SAFE SOCIALLY DISTANCED EVENT.
Further information will be coming soon but for those interested in entering their individual, family, or business Jack-o-Lantern please click the link below to let us know before October 26.
Pumpkin Registration: https://us7.list-manage.com/survey?u=04c67a7adf0adcbf6eeedc72e&id=96a73aa22d