It's time for our Summer Social!
Reserve your spot now!
The South Huron Chamber of Commerce and the Exeter BIA invite you and your staff to attend our annual Summer Social networking event!
Meet and mingle with local business owners while enjoying the beautiful and NEWLY renovated patio at Eddington's of Exeter!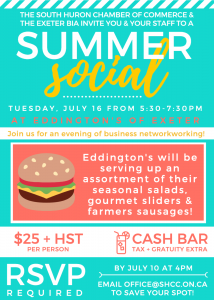 This event is open to all BIA and Chamber members ONLY. 
                                             Tickets are $25.00 + HST per person.
RSVP by emailing office@shcc.on.ca or calling 226-423-3028.
Registration is open until JULY 10 at 4PM!